"In this castle there are monsters owning ability of healing injuries. You should prepare for encountering them because there may be more of them in the future."
Difficulty

Bronze

Silver
Exp
1600
2100
Floors
3
Rooms
2

You will receive  Gold Ticket  after successfully passing this dungeon, plus  you will have unlocked Abandoned Village With Lamplight.
Encounters:

Edit
New Enemies: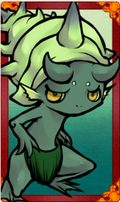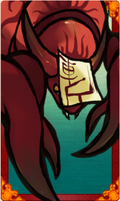 Floor 1, Waves 1-2:
Floor 2, Waves 1-2:
Floor 3, Waves 1, Boss:
Silver Difficulty
Floor 1:
Encountered monster cards
Boss:
Floor one reward:
Floor two reward:
Final reward:
Note*1 [ Turban Shell Demon heals for 120 ]
Note*2 [ Ebohi Bonito heals for 300 ]
You also need a sword/axe hime to have Critical Attack skill to quickly kill Net Cutter
Ad blocker interference detected!
Wikia is a free-to-use site that makes money from advertising. We have a modified experience for viewers using ad blockers

Wikia is not accessible if you've made further modifications. Remove the custom ad blocker rule(s) and the page will load as expected.