This city is located at the gateway of Madarame plain where many kinds of grasses grow. However, it is also being sabotaged by monsters...
New Enemy: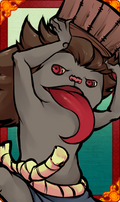 Encounters
Edit
Aside from the boss, encounters for each wave are randomized
Floor 1, Waves 1-5, Boss:
Silver Difficulty
Floor 1:
Encountered monster cards
Boss:
Final reward:
Recomended party:
Spear x3 / Axe x3 / Recovery x2
Note*  [ Add x2 Magic for Rambo mode ]
Use Combat affinity (Do your best to have as little disadvantage as possible)
Boss guide:
This guy is't tough at all, the only problem was getting to him. If you managed to get here with at least 1 spear, he'll make a short wort of him. He reminds me of my fav emotikon  Nya! Nya! ლ(╹◡╹ლ)
Note* [ If you can grind it, this map always gives lots of moster cards, 5 - 8 for clearing it. But people do if tor their lvl up. ]
Ad blocker interference detected!
Wikia is a free-to-use site that makes money from advertising. We have a modified experience for viewers using ad blockers

Wikia is not accessible if you've made further modifications. Remove the custom ad blocker rule(s) and the page will load as expected.