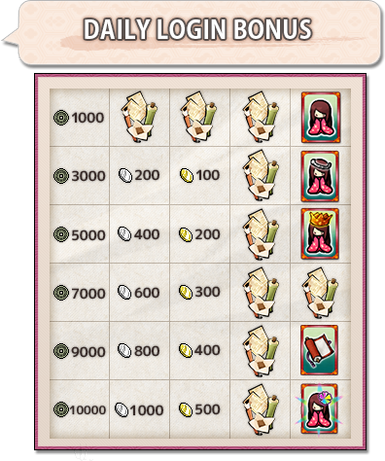 Reward is given everyday at Server Time 06:00.
This is a Daily Attendance Reward,
so even if u miss just 1 day, the reward will reset to Day 1. But from January/18/2016 maintenance, the reward of daily login bonus is no longer reset to day 1 after you do not log into game for some days.
The reward resets after 30 days of continuous login, so after you've received your rainbow ticket, the reward for Day 31 is 1000 Bronze Coin.
Reward:
Day 1: 1000 Bronze Coin
Day 2: Brush of Training x1
Day 3: Bottle of God Wine x1
Day 4: AP Recovery Pill x1
Day 5: Bronze Tickets x10

Day 6: 3000 Bronze Coin
Day 7: 200 Silver Coin
Day 8: 100 Gold Coin
Day 9: Brush of Training - Low x1
Day 10: Silver Ticket x1

Day 11: 5000 Bronze Coin
Day 12: 400 Silver Coin
Day 13: 200 Gold Coin 
Day 14: AP Recovery Pill - Low x1
Day 15: Gold Ticket x1

Day 16: 7000 Bronze Coin
Day 17: 600 Silver Coin
Day 18: 300 Gold Coin 
Day 19: AP Recovery Pill - Low x1
Day 20: Pattern of Elite Race x1

Day 21: 9000 Bronze Coin
Day 22: 800 Silver Coin
Day 23: 400 Gold Coin 
Day 24: Brush of Training - Mid x1
Day 25: Skill Ticket x1

Day 26: 10000 Bronze Coin
Day 27: 1000 Silver Coin
Day 28: 500 Gold Coin 
Day 29: AP Recovery Pill - Mid x1
Day 30: Rainbow Ticket x1
Ad blocker interference detected!
Wikia is a free-to-use site that makes money from advertising. We have a modified experience for viewers using ad blockers

Wikia is not accessible if you've made further modifications. Remove the custom ad blocker rule(s) and the page will load as expected.