This mountain used to draw a lot of copper miners.
But now it is abandoned for unknown reasons...
Any mine there has high chances of collapse so your time coming in is limited every day.
| Difficulty | Bronze |
| --- | --- |
| Exp | 200 |
| Floors | 1 |
| Rooms | 4 |

Note*Map Two [ You can only run this subjugation 10 times a day ]

Requirement to Unlock:
Clear the quest [Defeat Centipede at Black Forest!]
[漆黒の森]の[百足]を退治するのじゃ!
Note*: When finished you have a chance to receive Pile of Copper. 10x  are used to create Bronze Statues 
Encounters:
Edit
Aside from the boss, encounters for each wave are randomized.
Floor 1, Waves 1-4, Boss:
Note* [ Which means that you might get Kamaitachi x3 every wave if you are unlucky... ]
Boss:
Bone Samurai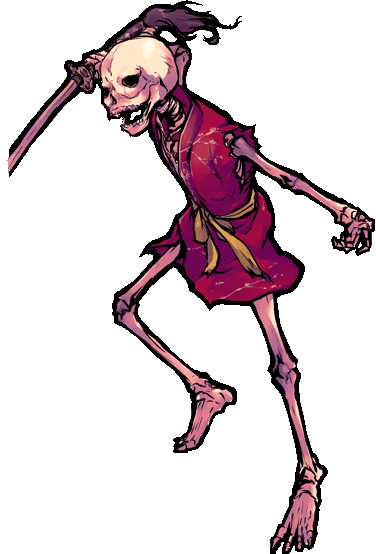 Boss Guide:
Only thing going for him is that he has lots of HP, It's a simple click "start" to win boss, and the recommended party is like that too.
Recommended Party:  x3 Magic / x1 Axe / x1 Recovery