This is the forest of delusion, where evil spells are casted to abduct human. Monsters around here are very strong and powerful. You must be on guard.
Difficulty

Bronze

Silver
Exp
750
1150
Floors
1
Rooms
5

You will receive Brush of Training - Low  after clearing this subjugation.
In addition, you will unlocked Graveyard Forest, Deserted Mine, and Mysterious Tree Bearing Magatama.
     New Enemy: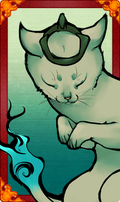 Encounters
Edit
Floor 1, Waves 1-5, Boss:
Silver Difficulty
Floor 1:
Encountered monster cards
Boss:
Recomended Party:
Spear x2 / Bow / Axe x3 / Recovery x2
Welcome to the Forest of Delusion. The main reason you may end up farming this dungeon is that this is where you need to go to obtain Amulet of Hikyuu, which is required to summon one of the guild daily summon bosses.
The boss is not too strong, sword and bow (example:higekiri and kayanohime ) do a good damge, be careful with the paper lantern and crimson lantern because they kill healer
Ad blocker interference detected!
Wikia is a free-to-use site that makes money from advertising. We have a modified experience for viewers using ad blockers

Wikia is not accessible if you've made further modifications. Remove the custom ad blocker rule(s) and the page will load as expected.