Road to the forest where small creatures with furious fangs live.
Although they are small in size, don't underestimate them. They are being controlled by the Dark Force and have become very ferocious. Be careful!
Difficulty

Bronze

Silver
Exp
50
100
Floors
1
Rooms
3

You will receive Bronze Ticket and Tengu after successfully passing this dungeon.
In addition, you will unlock Forest of Herb and reach Player lv [3].

Note* [Upon successful subjugation of the dungeon, there is a small chance to encounter the guild boss known as Tanukibayashi.
New Enemy: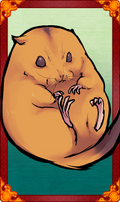 Encounters
Edit
Note: Difficulty only change stats.
Floor 1, Room 1 & 2:
Floor 1, Room 3 (Boss):
Boss: