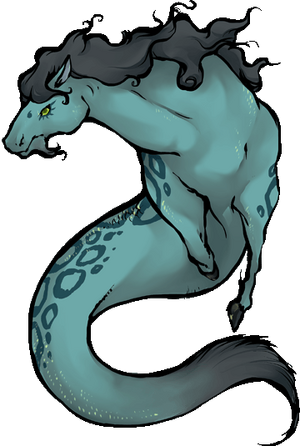 | | | | | | |
| --- | --- | --- | --- | --- | --- |
| Level | 1 | 2 | 3 | 4 | 5 |
| Cost | 5 | 5 | 5 | 5 | 5 |
| Atk | 150 | 151 | 152 | 153 | 154 |
| Def | 2000 | 2001 | 2002 | 2003 | 2004 |
| Agi | 180 | 181 | 182 | 183 | 184 |
| HP | 7 | 7 | 7 | 7 | 7 |
| xp req. | - | 120 | 240 | 420 | 660 |
Note*  [ Does AOE damage ]
Experience value: 1500
Sell value: 650 Bronze Coins
Description
Edit
A half horse half fish creature that is ridden by Water God. It can run freely on water surface as well as on land.
Places of Confront
Edit
| Required Material (*2) | Special Material | Unity Result | Success Rate |
| --- | --- | --- | --- |
| Ryoma | | None | |
Ad blocker interference detected!
Wikia is a free-to-use site that makes money from advertising. We have a modified experience for viewers using ad blockers

Wikia is not accessible if you've made further modifications. Remove the custom ad blocker rule(s) and the page will load as expected.