"This used to be a green shrine full of plants and flowers. But now it is covered by a thick mysterious black smoke...
Dagerous monsters are said to be lurking inside it.
Gather your force to explore it!"
Difficulty

Bronze

Silver

Gold
Exp
950
1350
1750
Floors
2
Rooms
3

You will receive (Subjugation Quest ) Silver Ticket , Book of Defense Boost x3 after clearing this subjugation. In addition  you will  unlock Silent Abandoned Village and Foot of Withering Sacred Tree.

Note* [ Upon completion this subjugation, there's a low chance to encounter the guild boss Jade Rabbit]
Requirement to Unlock:
Clear the quest [Attack Fort of Spearman !] ([槍使いの城]を突破するのじゃ!)
Encounters
Edit
Floor 1, Waves 1-3:
Floor 2, Waves 1-2, Boss
-Skills (Gold Difficulty)-
Sarugami Stats: ~600HP, <252AGI |Skills: Attack UP, Long Range Target
Crimson Lantern Stats: ~350HP, <252AGI |No Skills
Hinukan Stats: ~900HP, <252AGI |No Skills
Evil Smoke Stats: ~630HP, 330~400AGI |Skill: Speed UP
Mouryou Stats: ? |No Skills
Chimi Stats: ? |No Skills
Demon Head Stats: ~820HP, <252AGI |Skill: Mage Target
Fire Soul Stats: ~1900HP, <328AGI |Skill: Attack UP
Nue (Boss) Stats: ~842ATK, ~600HP, <252AGI |Skill: Defense Boost
Boss:
Nue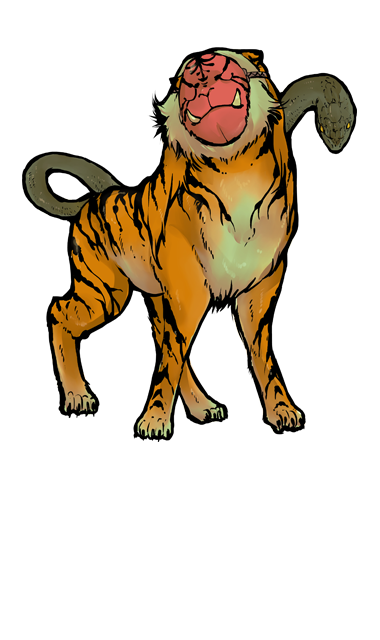 Encountered Monster Cards
450-780? Coins (Bronze)
1770-1890 Coins (Silver)
2800-3000 Coins (Gold)
Final Floor:
Edit

Note - Chimi isn't available as drop here.
Tips: In short it's just the same as Centipede. High atk, probably killing in a single blow, high defense, so crits are far more effective as they ignore defense partially, low hp, slow enough to mostly go last. You just need enough himes with good atk and/or agi to manage killing him before running out of them.