A strange coast, when one steps on the sand, it
starts singing. It is said that you can pick up some
mysterious shells here. You can trade themfor
various items fromthe event quests.
Difficulty

Bronze

Silver

Gold
Exp
200
400
1000
Floors
3
Rooms
2

Tickets Required for entry**

Note*Map One: (event only)

This dungeon is available during the A Fire & Ice Week! event.
Note* [Upon completion of this subjugation, there is a small chance to encounter the guild boss known as Oyuki【Hazuki】]
Requirement to Unlock:
Let's check out[Singing Sand Beach] != Attack Temple of Flower 1 time = Ticket x5 to [Singing Sand Beach] 
[鳴き砂の浜辺]の様子を見てくるのじゃ!
Encounters
Edit
Floor 1, Waves 1-2:
Floor 2, Waves 1-2:
Floor 3 Waves 1-2, Boss:
Silver Difficulty
Same waves as Bronze, just higher stats.
Gold Difficulty
Same waves as Bronze and Silver, just even higher stats.
Boss now have skills:
Bosses:
Turban Shell Demon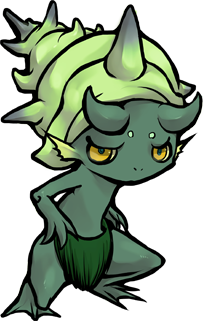 Final Floor:
Edit
Boss HP in Gold Difficulty: 710 < x < 726
(probably 720 :P)