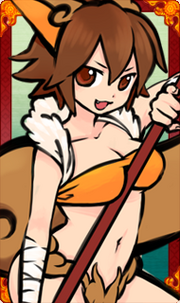 Spear type Hime have higher amounts of HP compared to other Himes. They are one of the most versatile and useful types of Hime, and are an ideal Hime for both beginner players and advanced players.
Spears are good against Sprites/Magic and Recovery Type of Enemies.
Spears are an equal match against Bows.
Spears are weak against Swords and Axes.
Normal Himes
Edit
Name
Rarity
Base Level Cap
Base HP
HP /level
Base ATK
ATK /level
Base DEF
DEF /level
Base AGI
AGI /level

Basic
5
110
6
85
5
85
7
90
4

Basic
(Aquatic)
5
88
5
40
1
88
6
88
4

Variant Basic
10
115
6
90
6
85
8
90
4

Elite
10
115
7
90
6
90
8
95
5

Elite
(Aquatic)
10
90
5
45
1
89
6
90
4

Rare
10
120
8
90
7
95
8
95
5

Variant Elite
10
120
8
90
7
95
8
95
5

Superior
10
125
8
95
7
100
8
100
5

Extremely Rare
10
128
8
100
8
100
8
105
6

Extremely Rare
(Aquatic)
10
?
?
?
?
?
?
?
?

Variant Superior
10
138
10
107
8
105
8
100
6

Superior
Extremely Rare
10
133
9
105
9
105
8
110
6

Ultimate
Extremely Rare
20
127
8
100
7
102
9
105
5

Variant Superior
Extremely Rare
20
148
9
107
7
113
8
105
5

Ultimate Superior
Extremely Rare
20
138
8
115
8
131
8
108
5

Ultimate
Variant Superior
Extremely Rare
25
154
7
105
7
158
8
130
6

Kei
Extremely Rare
25
140
7
101
5
160
9
107
5

Kei
Extremely Rare
25
145
?
112
?
154
?
110
?

Legendary 
20
150
8
110
8
150
9
110
6

Legendary
20
155
9
110
8
130
8
100
6
Story Himes
Edit
Name
Rarity
Base Level Cap
Base HP
HP /level
Base ATK
ATK /level
Base DEF
DEF /level
Base AGI
AGI /level

Basic
15
100
5
85
6
85
6
100
5

Variant Basic
15
125
7
90
6
85
8
90
4

Elite
15
125
8
90
6
90
8
95
5

Rare
15
130
8
90
7
85
7
95
6

Variant Elite
15
125
8
90
8
100
8
95
5

Foreign
15
120
9
95
8
100
8
95
7

Foreign
15
116
x
100
x
95
x
98
x

Superior
15
130
9
95
7
105
8
100
5

Extremely Rare
15
136
8
102
8
106
8
105
6

Foreign Rare
15
146
?
136
?
157
?
124
?

Variant Superior
15
140
11
158
7
141
8
125
6

Superior
Extremely Rare
15
142
9
165
9
136
8
127
6

Foreign
Extremely Rare
15
150
?
100
?
140
?
100
?

Variant Superior
Extremely Rare
15
170
9
110
7
160
10
146
6
Foreign Himes
Edit
Name
Rarity
Base Level Cap
Base HP
HP /level
Base ATK
ATK /level
Base DEF
DEF /level
Base AGI
AGI /level

Foreign
10
122
9
92
8
98
9
98
6

Foreign
10
120
9
94
8
95
9
100
6

Foreign Rare
10
127
9
97
8
102
9
102
6

Foreign Rare
10
125
9
100
8
101
9
104
6

Foreign
Extremely Rare
20
132
9
104
8
97
9
102
6

Foreign
Extremely Rare
20
122
9
92
8
110
8
113
7

Ultimate Foreign
Extremely Rare
20
160
8
100
8
155
9
105
6

Ultimate Foreign
Extremely Rare
20
170
9
98
7
140
8
114
7
Limited Edition Himes
Edit
Name
Rarity
Base Level Cap
Base HP
HP /level
Base ATK
ATK /level
Base DEF
DEF /level
Base AGI
AGI /level

Basic
15
100
6
150
8
20
5
95
4

Variant Basic
15
120
6
60
5
135
9
95
4

Elite
15
122
7
97
6
97
8
102
5

Elite
15
129
10
97
6
90
5
102
5

Elite
20
140
7
120
6
151
9
120
6

Elite
(Aquatic)
10
100
7
90
2
100
6
100
5

Rare
15
133
8
103
7
108
8
108
5

Rare
10
137
8
110
7
124
9
110
6

Variant Elite
15
120
8
90
7
15
8
100
5

Foreign
15
128
9
92
8
102
9
88
6

Foreign
20
144
7
108
6
158
8
120
6

Foreign
15
115
7
88
6
90
7
92
5

Foreign
20
117
7
95
6
122
7
102
6

Superior
15
135
8
130
10
115
9
110
5

Extremely Rare
10
118
8
90
7
93
8
95
5

Extremely Rare
15
158
8
117
7
142
8
112
5

Extremely Rare
20
150
7
120
6
135
9
100
6

Foreign Rare
15
132
9
97
8
105
9
87
6

Foreign Rare
10
121
8
111
7
112
9
110
7

Foreign Rare
15
122
8
90
7
95
8
95
5

Foreign Rare
10
124
8
100
7
120
9
100
6

Variant Superior
15
140
11
100
7
111
8
100
6

Variant Superior
15
145
11
110
8
115
7
107
6

Superior
Extremely Rare
15
?
?
?
?
?
?
?
?

Variant Superior
Extremely Rare
25
?
?
?
?
?
?
?
?

Legendary
20
145
8
110
7
155
8
125
9

Legendary
20
x
x
x
x
x
x
x
x