Cave that is said to be the home of very rare monsters. Terrifying monsters will be waiting for you at the exit, be on guard!
Difficulty

Bronze

Silver
Exp
1200
1700
Floors
1
Rooms
5

You will receive Guide Book I x5 after clearing this subjugation.
In addition, you will unlock Castle of Magic.
You will be happy to reach this dungeon at last... both Fire Wolf and Sumikowarashi are now easily obtainable for Basic to Elite Unity.
Encounters
Edit
Aside from the boss, encounters for each wave are randomized.
Floor 1, Waves 1-5, Boss:
Silver Difficulty
Same waves as Bronze, just higher stats.
Boss x4:
This is a perfect place to grind coins, Sumikowarashi (for the Special Unity towards Kisshouten) and Fire Wolf (for the Special Unity towards Nekomata) all at the same time [confirmed by and recommended by Zekeinferno/Izumi] The monster drops are also fantastic as they give 300+ exp each and they drop fairly easily.
If you have a high tier, OVERLY brushed, drugged (medicine), and / or +1'ed hime, you can solo this easily for a mere 2 / 3 AP. It's still beneficial to do this dungeon even if it requires a tad bit more AP. If you can get to this dungeon in the first place, which is after Fort of Axeman (lv. 13 requirement), you'll be able to clear it with ease.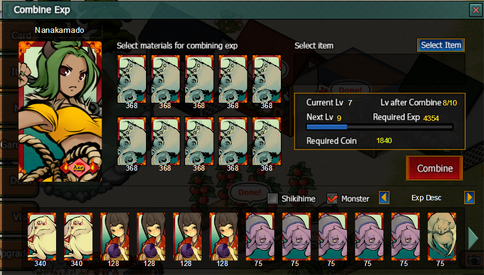 Ad blocker interference detected!
Wikia is a free-to-use site that makes money from advertising. We have a modified experience for viewers using ad blockers

Wikia is not accessible if you've made further modifications. Remove the custom ad blocker rule(s) and the page will load as expected.